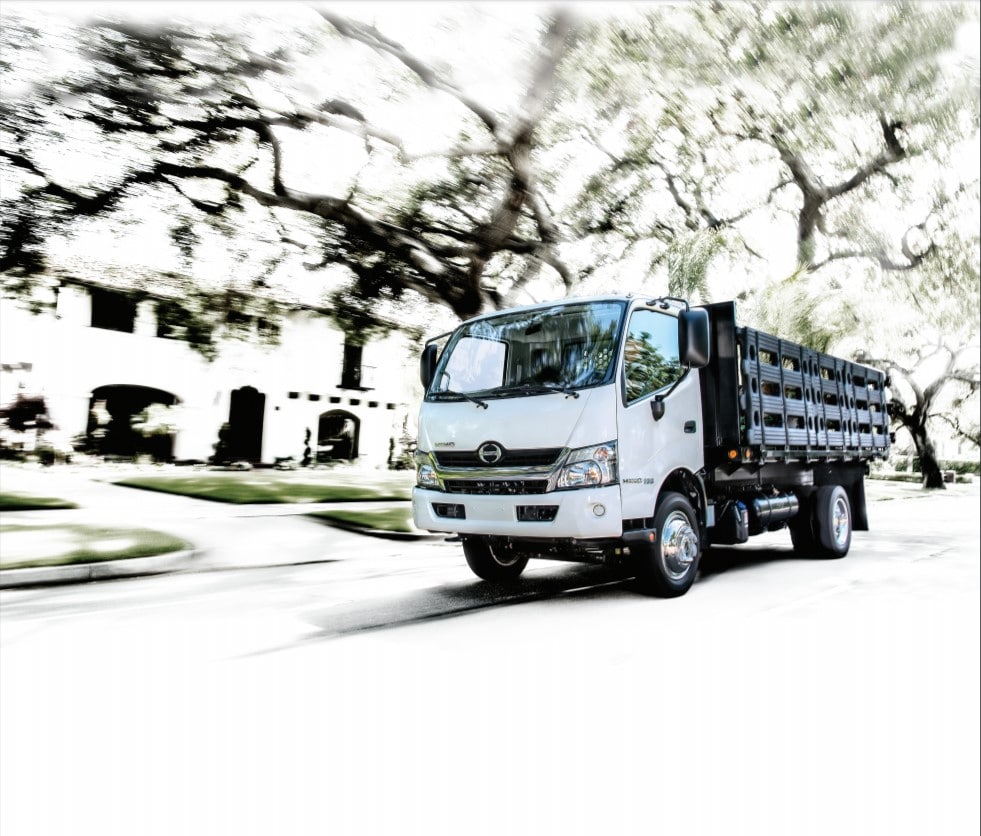 ​
You're in the market for a medium duty truck that's versatile, efficient, hardworking, and above all -- been built to stand the test of time. Since you're currently browsing for a commercial duty truck, you've probably discovered that there are plenty of manufacturers to look to. We here at Rochester Truck encourage you to explore the new Hino 195, a truck that's proven its dependability and natural instincts as a workhorse time and time again. This cab-over Hino truck is by far and away one of the most versatile and easily-customizable vehicles we offer in our new inventory. Please drop us a line to ask us about how we can better help arm you with the right vehicle to enhance how your business handles the transportation of goods and materials.
Performance and Capabilities: The Hino 195 Has Been Designed to Help You Transport and Tow with Confidence
At the heart (and under the hood) of every Hino 195 rests a hardworking 210-horsepower Hino JO5E Series Engine that generates 440 pound-feet of torque for impressive towing and hauling power. When mated with the Aisin A465 six-speed automatic transmission, this cab-over Hino truck will have no issue shifting seamlessly to provide a fuel-efficient and pleasant ride. How does this power amass itself in real-world driving conditions? The Hino 195 offers up a hefty 19,500-pound GVW rating making it a popular vehicle of choice for a wide variety of commercial duties and responsibilities. Whether you're looking for a model that can handle large loads of waste and refuse materials or are more inclined to discover vehicle that can accommodate excess scrap metal and landscaping materials; the Hino 195 will tackle it all with ease. Look over a few of the Hino 195's standard features below to get a better picture of what makes this Hino truck such a fan-favorite throughout the Rochester, NH region.
33-inch wide frame
30-gallon fuel tanked situated in the center of the truck
100 percent steel cab construction
Selective Catalytic Reduction Technology (reduces NOx emissions by an impressive 80 percent
Explore the Comfortable Interior of the Hino 195
You're looking for a truck that's rugged and capable, but you're also seeking a vehicle that boasts a comfortable interior for your hardworking crew members and employees. The Hino 195 cab-over truck sports plenty of enjoyable amenities and convenient tech to facilitate pleasant traveling throughout New England. For instance, if you hail from New Hampshire and frequently send supplies to Maine, the standard cruise control system will help make highway travel a touch less stressful. This Hino vehicle also offers a CD player and air conditioning system, both of which come at no additional cost and are standard in every Hino 195 model. Further comfort is delivered via the truck's galvanized steel cab that helps mitigate ride noise.
Interested in Taking the Wheel of the Hino 195? Contact Our Sales Team to Take a Hassle-Free Test Drive
If you'd like to take a tour of our full selection of new Hino models and affordably-priced used models, be sure to contact us over the phone. Or, feel free to make the drive out from Maine to our Hino dealership in Rochester, NH. If you already own a Hino truck, and feel confident the customizable Hino 195 is exactly what your business needs, we offer convenient and secure shipping on all our new Hino models. While on the phone, ask about our rates as well as the competitive financing options we offer on our various new Hino trucks. We hope to hear from you soon.