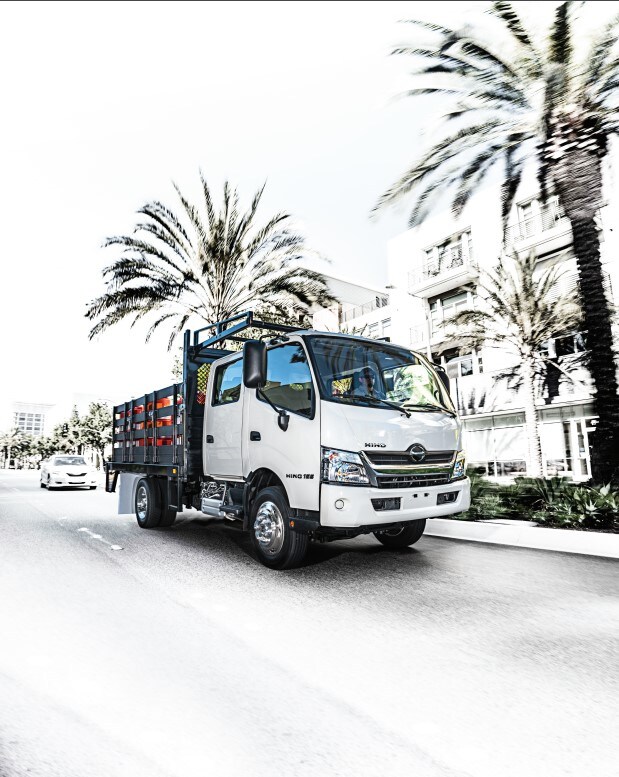 In need of a new commercial rig? We here at Rochester Truck understand that there is a wide variety of models and manufacturers to explore in the commercial-grade truck segment. If there's one brand and model we're confident stands out from the rest, it's the Hino 155. Easily tailored with a vast array of optional add-ons and sporting a truly impressive range of capabilities thanks to its ample horsepower and torque ratings, the hardworking Hino 155 is adept at transporting whatever gear, equipment, and supplies need moving in the Dover, NH area. Run through a handful of the Hino 155's strongest features and selling points below. As a premier new and used Hino truck dealer in Rochester, NH, we're here to answer any questions you might have. Reach out with any questions you might have after learning more about this icon in the commercial vehicle segment.
Manufactured to Handle Tough Tasks with Ease
The Hino 155 touts plenty of impressive heavy-duty feats of engineering to provide you the muscle your business needs to move what needs moving. The Hino truck sports a J05E-TP 5.0-liter turbo diesel engine capable of generating 210 horsepower and 44 pound-feet of torque. This engine is mated with an Aisin A465 six-speed automatic transmission to help optimize your truck's performance. The powertrain has been engineered to maximize performance and fuel-savings. The model rides with a 30-gallon rear center-mounted fuel tank while further showcasing the brand's Selective Catalytic Reduction technology that significantly reduces NOx emissions. In total, the Hino 155 boasts a 14,500-pound GVW.
All Hino 155 trucks also sport the brand's Hino Insight platform to better optimize your fleet's efficiency and overall operating costs in the long-term. Insight Telematics can allow you to closely monitor speed, location, brake pressure, and idle times of specific models to keep tabs on the wear and tear each of your model's face. Insight Remote Diagnostics and Case management will be of great use in the case of a breakdown while one of your drivers is out on the Barrington, NH roads. The former will notify your company, your dealership (Rochester Truck), and the manufacturer of a DTC while the latter will help you navigate the service and diagnostics process with greater efficiency.
The Hino 155 Sports a Comfortable Cabin for Your Hardworking Team
Your drivers will be spending some serious chunks of time at the wheel traveling around the northeast. The Hino 155 is entirely sensible for the needs of your business yet still manages to tout a cabin that's comfortable and pleasurable to ride in for extended periods of time. Air conditioning, cruise control, a tilt and telescoping steering wheel, and AM/FM radio with CD player all come included at no extra cost. Visibility is clear and generous as the Hino 155 comes equipped with a driver's seat that rides high above the dash to help provide a better perspective of the road and potential hazards ahead.
Generous Warranty Coverage to Bring Your Ownership Experience to the Next Level
Repairs -- they're something that any small business owner in New Hampshire fears. They can set your business behind schedule and can end up costing a fortune. With Hino's generous extended warranty coverage and our expertise at our onsite Hino service facility in Rochester, NH you'll be able to get your model back on the roads where it belongs in little to no time at all. Hino trucks showcase an industry-leading engine warranty with five-year 250,000-mile coverage while Cab-over models tout five-year 200,000-mile coverage. The brand's HinoWatch program further protects your truck 24/7 for the first three years of ownership regardless of what your model's odometer reads. What's more, is the manufacturer offers a preventative service care program for diesel-driven Hino models (HinoCare). From oil changes to air filter replacements and engine belt checks, Hino extends peace of mind so you can focus on other areas of your business that require attention.
If you're interested in learning more about the new Hino 155 please contact our Rochester, NH Hino dealership. We'll be happy to discuss our nationwide delivery program that continues to drive in shoppers from Portland, ME and beyond. We hope to hear from you soon.